Giant Snakehead fishing in Malaysia
Every addicted Snakehead angler should once in his-hers life time join us for a multi-day Snakehead safari to Lake Temenggor or to Lake Kenyir.

Our Snakhead lure fishing is done from 6 meters fibreglass boats with a 40 hp outboard engine that can comfortable fish two anglers, a local certified guide will drive the boat. The Snakehead fishing is normally best early morning and in the late afternoon to dusk, so an early morning start is important for success. During overcast and heavy rains the fishing can be outstanding all day long. The boat will pick you up from your resort and fish on a daily basis until dusk when you will be back at the resort for dinner. We bring a packed lunch and normally take a lunch break in a shaded spot.

Snakehead lure fishing tactics:
Giant Snakehead is deemed to be one of the most vicious and aggressive fresh water fish in Malaysian waters, but they can still be hard to catch if you don't know how. The tried and tested tactics for successful Snakehead fishing are the following ones:

Random marginal Snakehead lure casting:
The Snakeheads have a habit of ambushing their prey from vegetation. Precision casting out surface poppers or frog lures close to the banks is one of the most effective ways to finding Snakeheads waiting in the vegetation to ambush prey. Weed guard frog lures are very effective for this kind of fishing as you can cast them over surface grass and other vegetation without getting snagged.

Casting to rising Snakeheads in open water:
With a lung-like organ Snakeheads need to surface for air often. This need to surface becomes handy for the fisherman as it gives away their position. To catch the surfacing snakehead the angler must keep an eye out to locate the surfacing Snakehead and determine which direction the fish is swimming and cast the lure out about a meter or two beyond the fish's trajectory. Deep diving Crank baits are great for open water lure casting. We have used Megabass deep 6 and deep x 300 crankbaits with great success, we change the standard hooks and split rings to 3x strong ones on all our lures.

Fry ball casting:
Rain triggers the Snakehead into spawning, during the beginning of the rainy season males and females pair up and begin mating and build a nest along the banks, they are very protective and guard their nests. After hatching the fry will swim in large shoals and they will surface for air frequently. The juvenile Snakeheads begin their life as small red fishes, as they grow older, they will become more brown in colour while maintaining some red at the tail. The younger the Snakehead juveniles, the more aggressive the parent. The parents of these little red hatchlings will violently protect their young. Normally one of the parents protects the young from a close range and are often in front of the direction the juveniles move in, the other parent will secure the perimeter from other predators. When the fry to surface again you cast your lure just over them, this will make the guarding parent really mad and can trigger a violent strike. The strike is what we like most with Giant Snakehead fishing, it's almost like a strike from a big GT. Snakeheads are specialist in finding roots and underwater obstacles to swim around during the fight, so you have to fight them hard if you are in an area with logs and underwater roots etc. Also be prepared for explosive runs in-under the bottom of the boat during the end of the fight, if this happens quickly lower the rod tip under the surface to prevent the line being cut off under the boat.

Tackle:
All our fishing tackle is supplied unconditionally so you will not have to worry about any lost or damaged tackle, everything is provided so you don't need to bring anything. The Rods and Reels we use are quality brands and our reels are loaded with fresh 40-50 lb braid. Anglers are welcome to bring along their own tackle if they want. Below is a simple guideline for tackle suitable for Lake Temenggor Snakehead fishing: The standard tackle we use for Snakeheads are 6-7 ft. medium heavy rods, spinning or bait casting reels (Choice is yours) loaded with 40 -50 lb thin diameter braided line and a fluorocarbon shock leader of 30-40lb. Recommended lures for Giant Snakehead fishing: Deep diving plug lures like the Megabass deep 6 and Megabass deep x 300, Rapala deep diver or risto rap, Propeller or non-propeller surface frog lures and buzz-bait. Important is to change all standard hooks to 3x hooks and use extra strong split rings. A Boga grip is also a handy tool to bring along. If you want to bring your fly fishing equipment, a 9 ft. long class 7 or 8 rod is best to use. Big popper flies tied on extra strong hooks is what we use for Snakehead here. We got fly equipment you can use if you don't want to bring your own gear.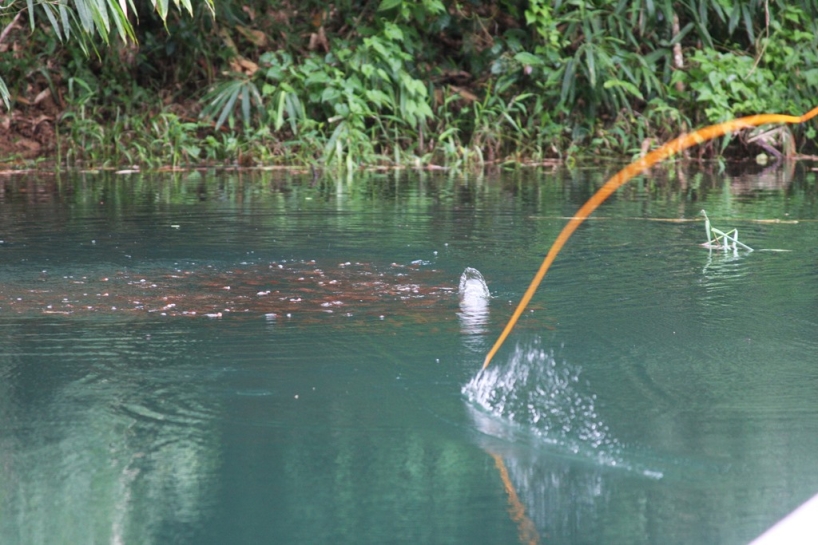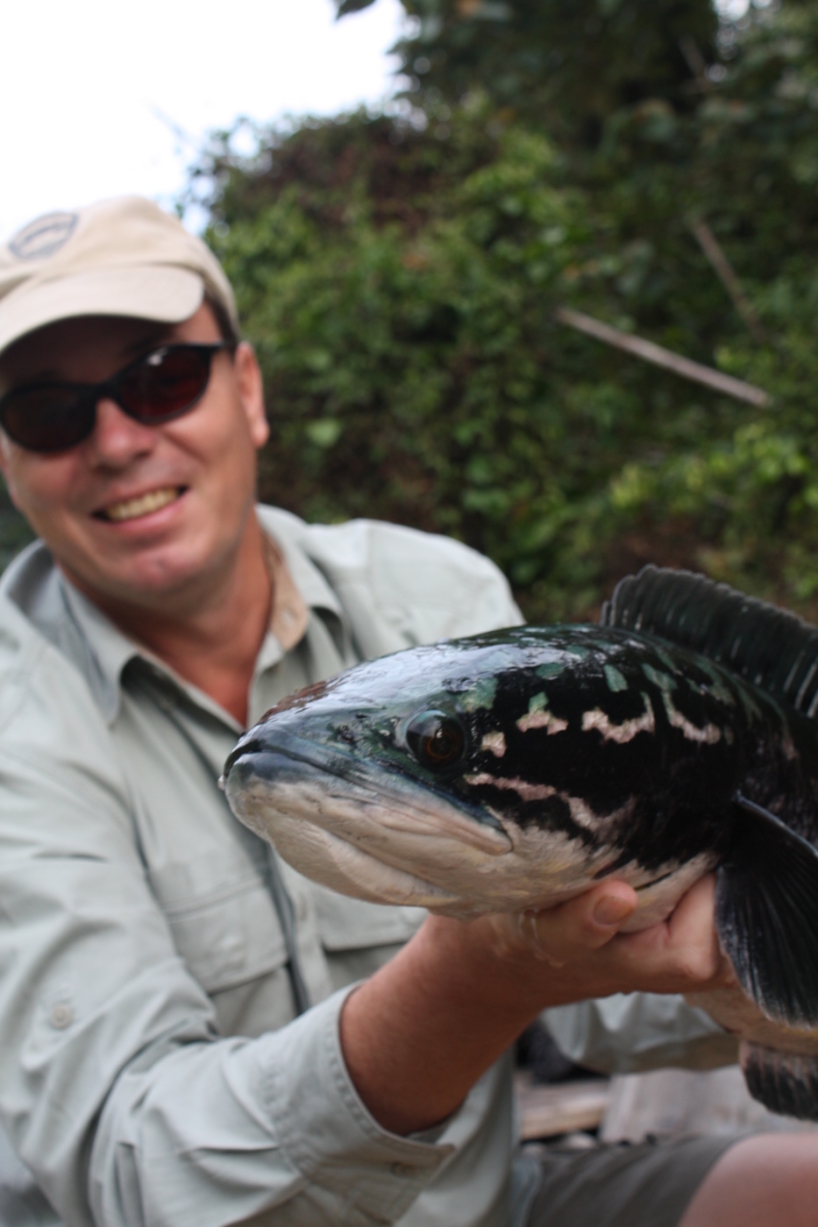 Recommended Clothing & Accessories for Snakehead fishing in Malaysia:
Fishing hat - A broad-brimmed hat. A wide brim is best to protect you from sunburn, reduce glare by keeping direct sunlight off your Polaroid glasses, also prevents hooks in your ears, head or neck!
Polaroid Sunglasses - Bring a top-grade pair! Best colors are yellow or amber; these improve contrast on dull days. Dark green ones make it difficult on rainy days to see the fish.
SHIRTS - A light-weight fishing shirt, fast-drying micro-fiber or light cotton, is best. Dull colors are important! Long sleeves are best against sunburns
T-SHIRTS or SINGLETS - Light cotton or micro-fleece
PANTS: Quick-dry hi-tech polyester outdoor track-pants/trousers.
JACKET - A lightweight 100% waterproof jacket, (Gore-tex is most comfortable during extended rains) that you can slip in your backpack in case of unexpected wind/rain. Waterproof pants are also recommended to bring during the rainy season.
Pullover - a fleece lined hooded Pullover is nice to have available in the evening. The temperature can drop fast in December and January high up in the mountains.
SUN-BLOCK SPF30+ - Bring SPF30+ sun-block, water-resistant. The sun here during midday can be very strong.
INSECT REPELLENT - There are very few troublesome insects here. However, at dusk and dawn there are sometimes mosquitoes. A repellent with about 25%+ Deet content is recommended.
For reservation and inquiries please
contact us
here.