Kuala Rompin Sailfish Fishing Charters


The seas east of Kuala Rompin, Malaysia are home to one of the largest aggregation of Sailfish found anywhere in the world. Tens of thousands of Sailfish feed on massive schools of baitfish between March and end of October. Calm seas, experienced crews and quality equipment have made Rompin a world-class fishery. There are a number of charter boats in Rompin but few are as professionally crewed and equipped as Magic Billfish Charters fleet. Our boats, skippered by experienced English-speaking crew, have the best catch rates of the local charter fleet. Our crews work hard to keep our boats close to the schools of Sailfish and follow the migration of these majestic fish as they move along the Rompin coast. During the Sailfish season our boats are the most heavily booked boats in Rompin, this gives us day-to-day knowledge as to where the baitfish schools and Sailfish are located and saves us time in finding the fish for you. Multiple hook-ups and double figure catches in a single day are a reality during the peak season. The areas we fish are close to port which maximizes your time spent fishing.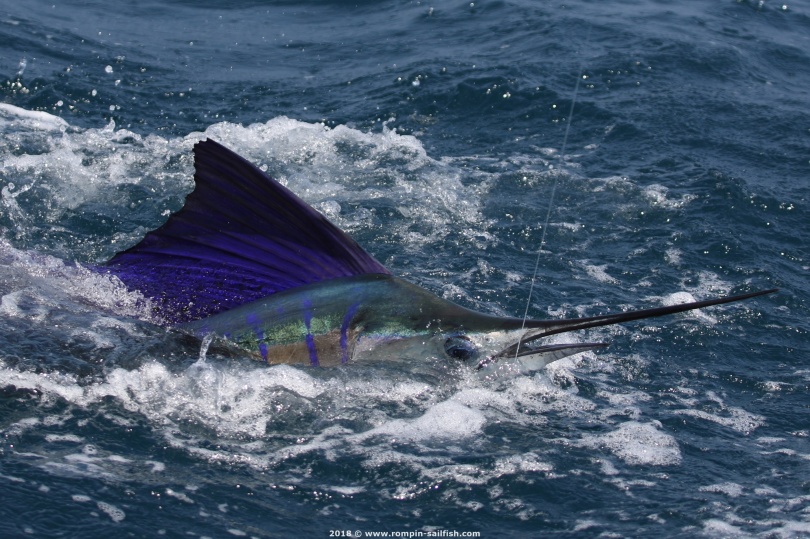 ROMPIN DAY TRIPS - PRIVATE CHARTER
Kuala Rompin day charters are priced at 860 USD (800 USD per day if booking multiple days) for a 10 hr private charter for the 2019 season.

Our boats can also be can be booked on a share basis (you split the charter rate with max 3 other anglers, if other anglers are available during your preferred dates)

Price includes:
A full-day charter from 8am-6pm (10 hrs.) for up to 4 people
Local Hotel transfers to the boat and back after the fishing
lunch boxes
Mineral drinking water
Soft drinks
Free use of professional fishing equipment and tackle
Experianced English speaking crew
Not included:
Accommodations, room /board, however contact information & recommendations are provided upon request.
International and domestic Airfare
Beer or other alcoholic beverages.
To confirm any dates we need a 50% deposit, the balance is to be paid in cash before departure. If you for any reason can not come we will book you in for another available date without any extra fees. We accept PayPal and TT bank transfers for the deposit payment.

For reservation and inquiries please contact us here.

Visit http://www.rompin-sailfish.com to find out more about our multi-day Rompin Sailfish packages

How to travel to Kuala Rompin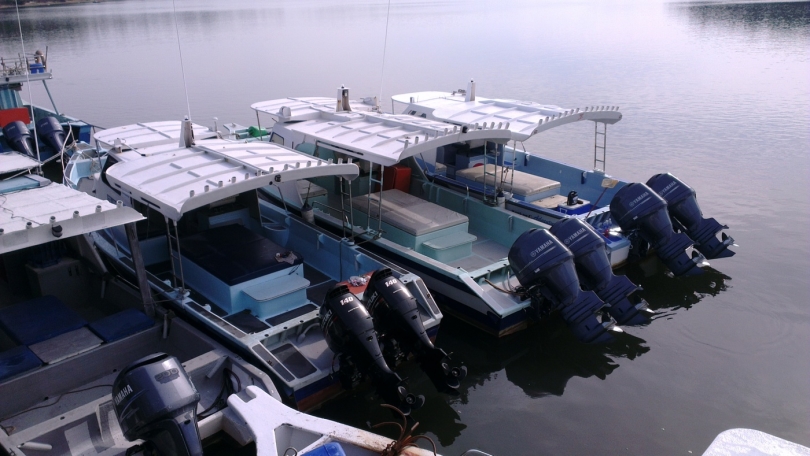 The boats we use to fish these waters are Malaysian built and made out of fibreglass, 36 ft. in length and powered by new Suzuki and Yamaha 4 stroke low emission outboard engines. They are fast and stable with ample sunshade. GPS navigation systems, VHF radios, Fish finders, livebait tanks, life jackets, and first aid kits are standard on all boats and crews are fully licensed to operate in Malaysian waters.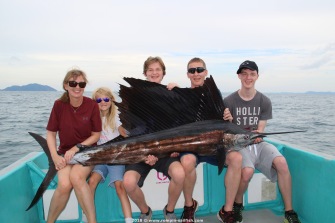 Sailfishing season in Rompin begins in March and ends last week of October. Mid November to March is the period of the Northeast monsoon in Rompin. This monsoon wind often brings strong rainfall and this season is not recommended for fishing in Rompin due to strong wind and choppy condition. The Sailfish fishing area is in 90-100 ft depth, relatively shallow water and a short run from the jetty. The fishing day normally starts with jigging with Sabiki feathers for live bait to fill up the live bait tank.

Balloon drifting with live bait is the preferred fishing method here as this is the most effective way of catching Sails in huge numbers. Slow trolling with live bait is also very productive and sight and cast, lure and bait switching, casting stick or popper surface lures, saltwater fly fishing are other methods often used here for catching Sailfish. The waters off Rompin are world renowned for flyfisherman who wish to experience landing a Sailfish on a flyrod. We troll teasers to raise the Sails to the fly. Our hook-less daisy-chain teasers are effective in making the Sails aggressive and bringing them to within the casting range of our guests. Oftentimes the Sails become so aggressive that they can be teased all the way to the boat. The number of raised Sailfish per day here, will probably be higher than anywhere else in the world. We will supply light and medium trolling, spin, bottom and fly fishing tackle to include TFO lefty kreh bluewater series Sailfish fly rods, Danielsson Control Infinity anti-reverse, state of the art saltwater fly reels, Sailfish fly fishing teasers and custom tied Sailfish tube flies with Cam Sigler popper heads, circle and J-hooks, surface lures, leaders, sabiki feathers, sinkers, snaps, pliers and rod belts at no extra cost, everything is provided so you don't need to bring anything. The Rods and Reels we use are quality brands…. Shimano, Daiwa, Penn and Tiburon. All our reels are loaded with fresh Suffix mono or braid. We maintain our fishing equipment to the highest standards. Below is a simple guideline for tackle suitable for Rompin fishing if you like to bring your own rods & reels:
Stand-up trolling or boat rod 20-30 lbs class with matching conventional trolling reel that holds min 400 meter of line.
7-8 ft. spinning outfit 12-16 lbs. class for bait catching and bottom fishing.
One extra 7-8 ft. heavy spinning outfit 20-30 lbs. class for surface popper casting or sight casting for Sailfish.
Class 12-14 fly rod with matching reel with a good break system, filled with min 400 meters of 50lb. backing, Sailfish flies and leaders.
It is advisable to carry high UVA / UVB waterproof sun crème and good quality polarised sunglasses during the trip. Fishing hats should be worn at all times during exposure to sun.